Like joining the Procrastinator's Club, I never got around to having a midlife crisis. I always was a late bloomer.
Now I'm old, so it's too late…but I can combine a midlife crisis with an old age crisis – so I'm making some big changes today.
Out go all of my bikes, to be replaced with a Lamborghini. Granted, it's a 1967 Lamborghini Miura, the car I wanted as a teen, so it's older than any of the bikes. That makes it okay.
Out go the canoe and the kayak – too much work for an old guy. I'm replacing them with a Chris Craft, the boat that my father taught me to covet in my youth. Again, it's older than the boats it's replacing, so it's still okay. All of that beautiful mahogany…
The espresso machine will go, to be replaced by a giant coffee urn, so I can brew that horrible church basement coffee where the water keeps circulating through the grounds until it takes like burnt mud. I'll drink many cups every day in my old English bone china cups. (Now, bone china, that's another story. See my friend Roy's blog "About Bone" for that. Actually, I guess it's in one of his books, as I didn't find it in a blog search. Suffice to say it is made with real bones. You can read Roy's blog anyway.)
The kids are grown so the minivan will be replaced by a Morgan Plus Four. The Morgan is hand-built on an oak subframe. The retro bikers say, "Steel is real." I say "Wood is good."
Of course my wife has to go. Since the theme here is "Out with the old, in with the older", I don't plan to take up with a Hollywood starlet as so many old men do. I can't afford to be a sugar daddy. I'm now dating Helen Mirren. She can afford to keep me better than vice versa.
I've been reading a lot about micro-dosing. Psychedelics scare me, so I'm going with Rogaine. What do you think so far? Maybe Grecian Formula next? Or Carter's Little Liver Pills? Geritol? Possibly Serutan. ("Remember, 'Serutan' spelled backward spells 'Natures'.")
It may be time to turn in the smart phone. I'm not sure what's next. Possibly a rotary phone, though in this digital world I can only receive, not make, calls; and no one calls me except telemarketers. I thought about a tin can telephone with branches to connect the homes of all of the stalwarts of the half-fast cycling club. A telegraph key might do the trick. I can brush up on my Morse Code and the signal will travel lightning fast over fiber optics.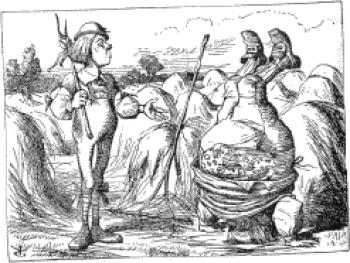 "You are old, father William," the young man said,
"And your hair has become very white;
And yet you incessantly stand on your head —
Do you think, at your age, it is right?"
"In my youth," father William replied to his son,
"I feared it would injure the brain;
But now that I'm perfectly sure I have none,
Why, I do it again and again."
"You are old," said the youth, "as I mentioned before,
And have grown most uncommonly fat;
Yet you turned a back-somersault in at the door —
Pray, what is the reason of that?"
"In my youth," said the sage, as he shook his grey locks,
"I kept all my limbs very supple
By the use of this ointment — one shilling the box —
Allow me to sell you a couple."
"You are old," said the youth, "and your jaws are too weak
For anything tougher than suet;
Yet you finished the goose, with the bones and the beak —
Pray, how did you manage to do it?"
"In my youth," said his father, "I took to the law,
And argued each case with my wife;
And the muscular strength, which it gave to my jaw,
Has lasted the rest of my life."
"You are old," said the youth; one would hardly suppose
That your eye was as steady as ever;
Yet you balanced an eel on the end of your nose —
What made you so awfully clever?"
"I have answered three questions, and that is enough,"
Said his father; "don't give yourself airs!
Do you think I can listen all day to such stuff?
Be off, or I'll kick you down stairs!"
"That is not said right," said the Caterpillar.
"Not quite right, I'm afraid," said Alice timidly;
"some of the words have got altered."
"It is wrong from beginning to end,"
said the Caterpillar decidedly, and
there was silence for some minutes.
Lewis Carroll